Advanced Podiatric Procedures & Services in Pooler, GA
Dr. Leonard M. Talarico is available to treat foot and ankle ailments such as diabetic foot care, ingrown toenails, fungal toenails, warts and painful calluses. Our practice specializes in general foot care. Please call our office in Pooler at (912) 330-8885 for an appointment.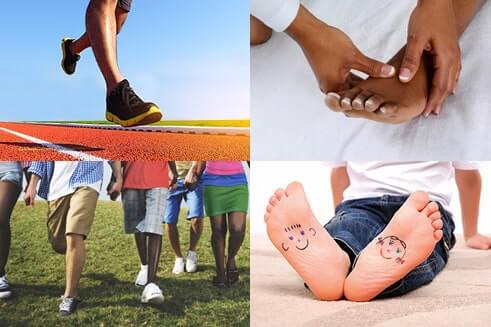 | | |
| --- | --- |
| | Nerve Compression Syndromes: |
ADVANCED TECHNOLOGY
From routine checkups to surgical treatment, Leonard M. Talarico, DPM is equipped to handle all your podiatric needs. To help you understand your options, we've included descriptions of some of our leading services on this page. At The Foot & Ankle Center, PC we offer advanced state-of-the-art technology and treatments in a caring and family-like atmosphere; expertise you can trust.
In - office diagnostic services:
Digital X-ray: a low scatter radiographic evaluation of the bones and joints.
Musculoskeletal Ultrasound: For diagnosis of musculoskeletal problems, heel pain, tendonitis, tendon and ligament tears, stress fractures, neuromas, bursitis, and tumors.
Neurosensory Testing with Pressure Specified Sensory Device (PSSD ™ ): a painless method for to determine if a person's complaints of numbness or pain are due to compression (from entrapment or pressure) of a nerve, an injury to a nerve, or due to a neuropathy. PSSD™ is a computer – based device used to measure and quantify the amount of pressure required for a person to determine if one or two rounded objects are in contact with that area's skin surface. No needles or electric shocks are used and it is painless.
PADnet+ Vascular Testing for Peripheral Arterial Disease (P.A.D.): A non-invasive test called an Ankle Brachial Index (ABI) is performed enabling early detection of P.A.D. by detecting blockages in arteries and measuring the quality of blood flow to the legs and feet using Pulse Volume Recordings (PVRs) and segmental blood pressure measurements. Early detection of P.A.D. greatly improves the outcomes. An additional test is available to detect chronic venous insufficiency (CVI).
Extracorporeal Pulse Activation Technology (EPAT ® ): is an innovation setting a new standard in the treatment of acute and chronic musculoskeletal disorders. The technology is based on unique sets of pressure waves that trigger the body's own repair mechanisms to stimulate natural healing. It is noninvasive and fast tracks the healing process. It is commonly used for heel pain, Achilles tendon pain, and other musculoskeletal injuries.
MLS Laser Therapy: the latest advance in safe, comfortable and highly effective pain relief and tissue repair. The MLS Laser is one of the most technologically advanced therapeutic Class IV lasers approved by the FDA. The difference is that the MLS Laser is capable of delivering over 100 times more healing energy than the most powerful devices of the previous generation ( Class III – 'Cold Lasers' – LLLT – Low Level Laser Therapy ).
Alcohol Sclerosing Injections: Nonsurgical treatment for painful nerve entrapments, neuromas and lesions.
Prescription Custom Foot Orthoses: Custom biomechanical – control – devices created from moldings of your feet and designed to fit into your shoes. These devices hold your feet in their correct position to allow improved biomechanical function of the foot in to reduce injury and improve comfort.
Surgical Services:
Reconstructive Procedures – Bunions, Hammertoes, Flatfeet, etc.
Nerve Decompression (neurolysis)
Tendon Repair
Joint Replacement
Joint Fusion
Fracture Repair
Durable Medical Equipment:
Medicare approved extra-depth diabetic shoes and insoles
Custom-molded ankle braces as an alternative to surgery
Custom-molded biomechanical control orthotics
OTC products available:
Powerstep ® prefabricated shoe inserts
Silicone pressure – reducing foot pads
Biofreeze ® pain relieving gel
Traumeel ®
Zeel ®
Neuremedy ®
Mederma ® Scar Care
Mycasil topical toenail anti-fungal solution
Mycomist anti-fungal therapy for shoes
Dani-Pro anti-fungal nail polish
Ankle Sprains
Ankle sprains are very common injuries with more than 3 million suffered each year in the US. They occur when the ligaments in the ankle are severely stretched or torn. Medical attention will be necessary to rule out a fracture, as often it is difficult to tell the full extent of the injury.
Bunions
A bunion is a bone deformity usually occurring at the base of the big toe. This is a progressive condition that is made worse by inward pressure from tight shoes. Bunions can be very painful, and in some instances surgery may be necessary to remove them.
Flat Feet
Flat feet is a condition where the entire, or nearly entire, bottom of the foot meets the ground when standing. Depending on the severity, symptoms of flat feet can range from severe pain to non-existent.
Hammertoes
Hammertoe is a characterized by one or more of the toes having a bend in the middle joint. This occurs because of weakening of the muscle due to poorly fitted shoes or a genetically inherited trait.
Diabetes and Your Feet
Diabetes is a systemic illness that can affect many different parts of the body. This is especially true for the feet. Proper foot screening is incredibly important for diabetic patients and any kind of cut or sore should be taken very seriously.
Heel Spurs
A heel spur is a bony protrusion that occurs on the heel. It is often confused with plantar fasciitis, which is inflammation of the plantar fascia ligament. When a heel spur is painful it can make it quite difficult to walk.
Corns
Corns and calluses are hard layers of skin that usually form due to friction. Generally, they will be in areas of the foot that are bearing weight, or areas that frequently rub against the shoe. Soft corns are typically found between the toes.
Athlete's Foot
Athlete's foot is a very common fungal infection that affects countless people around the world. It will manifest itself on the skin of the foot, in many cases in between the toes. Because fungi proliferate in warm, damp environments, keeping the feet clean and dry is of utmost importance in avoiding athlete's foot.